Teeth Whitening
Have you ever wished your teeth were whiter and brighter? Our dentists will be happy to assess your suitability for a whitening treatment. At Identity Dentistry, we offer two teeth whitening treatment options:
Take-Home Whitening Kits
This involves wearing custom-made bleach trays/guards that you place small dollops of the bleaching agent into for each use. The most common ingredient in these products is hydrogen peroxide or carbonate peroxide. The guards can be worn during the day for a short period each time or overnight for a few weeks. You simply where them for as often as you like until you reach your desired shade of white! For those wanting gradual whitening or concerned about the whitening looking unnatural, this is likely the best option.
To learn more about our take-home teeth whitening kits and our special online offer, please click here.
In-Chair Whitening
If you want instant teeth whitening, our dentists administer Phillips Zoom!™ in-chair tooth whitening. This process involves the dentist coating your teeth with peroxide gel and then shining a high-intensity light source over the top to enhance the whitening process. This professionally applied gel contains a higher hydrogen peroxide concentration than the take-home bleaching agent – from 25% to 40%. Hydrogen peroxide is the primary active ingredient responsible for the whitening effect. Dentists are the only professionals authorised to handle these gel solutions with the higher hydrogen peroxide concentrations (including Zoom!™ in-chair teeth whitening). As licensed healthcare practitioners, dentists are required to follow stringent safety protocols, including employing gum and lip shields when applying the gels so that the soft tissues in your mouth are protected from burns caused by the highly concentrated gel solution.
Why Phillips Zoom!™ in-chair whitening?
This treatment may whiten your teeth up to 8 shades whiter than your existing tooth colour
This whitening solution is designed to protect your tooth enamel
No need to wait weeks for results, you can get whiter and brighter teeth in one appointment with one of our dentists
Whilst certain food and beverages can stain and discolour the tooth's enamel over time, this is the most instant and long-lasting whitening treatment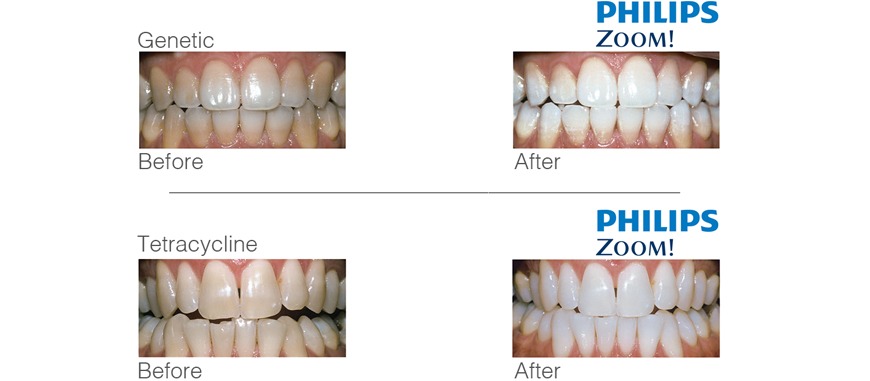 Why do I need to have a consultation with the dentist before proceeding with any whitening?
The health and sensitivity of everyone's teeth can differ, and that is why teeth whitening is not an appropriate treatment option for everyone. For example, people who have hypersensitive teeth might not be able to undertake tooth whitening as there is a possibility that the bleaching agents may enhance the sensitivity. Furthermore, dental conditions such as tooth decay, gum recession, periodontal disease likely need to be addressed prior to teeth whitening. Whether you would like to undertake whitening through the take-home kit or in-chair, that is why the dentist must assess your teeth and their suitability for whitening before commencing any whitening treatment.