Causes of Bad Breath and How to Prevent It
What is Bad Breath?
Bad Breath or Halitosis can cause embarrassment and for many can affect their social communication. Halitosis is the result of volatile Sulphur molecules which are caused by pathological and non-pathological reasons from a dental or non dental origins.
Bad Breath Causes
Food – The breakdown of food in between your teeth can increase bacteria and cause foul odour. Also eating foods, such as onion, garlic and certain spices can be a contributor to bad breath. After the digestion of these foods, the molecules enter your blood stream and travel to your lungs, this produces an odour that can be noticed long after digestion.

Smoking – Smoking contributes to oral malodour, It also changes the oral environment by drying the mouth and smokers are also are higher risk of developing gum disease.

Dry Mouth / Xerostomia – Saliva helps cleanse your mouth, removes particles that can produce odours, contains antimicrobial properties as well provides a stable pH environment in the mouth. Dry mouth or xerostomia occurs when there is a lack of saliva flow. This can occur for many reasons, most commonly is mouth breathing when sleeping leading to morning breath. Or can be caused by dehydration, smoking or problems with salivary glands due to illnesses and diseases.

Medications – some medications can indirectly cause dry mouth/xerostomia

Dental Factors – include poor oral hygiene, plaque and dental caries. The bacteria associated with plaque build-up and dental caries can produce Sulphur molecules. Those with gingivitis or periodontitis (gum disease) are more prone to halitosis due to the increased type and amount of bacteria found in the mouth.

Other Chronic Conditions – other contributing factors that may cause bad breath can be due to a range of conditions that does not originate from the mouth. It may be a sign of gastric reflux, diabetes, liver or kidney conditions.
What are the Symptoms?
Some symptoms of bad breath or halitosis are:
Dry mouth
Build up of plaque on your teeth and the surface of your tongue
Morning breath
Noticeable odour
Sour, metallic taste in the mouth
Thick stringy saliva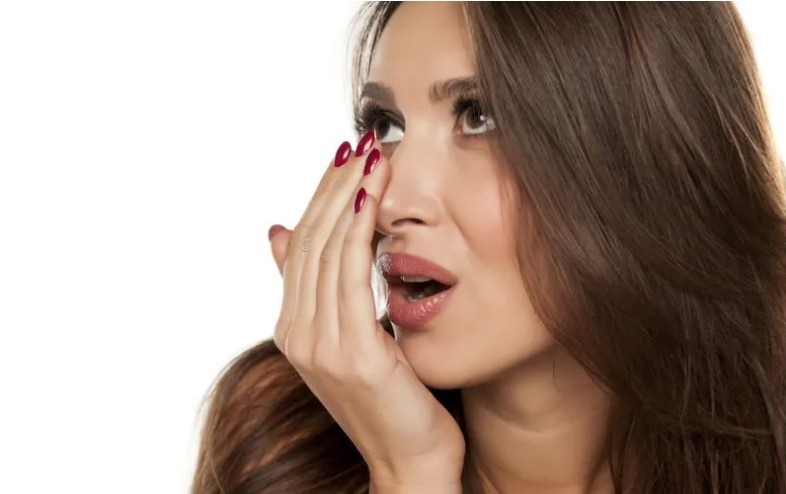 How Do I Treat Bad Breath?
There is no one treatment that will solve bad breath, it all depends on the cause. If the causes of bad breath are of dental origin, then the treatment of the dental issue such as tooth decay, plaque or treatment of gum disease may resolve symptoms of bad breath.
Underlying medical conditions, may need to be addressed as well by your doctor if the malodour is identified to be from the mouth.
How Do I Prevent Bad Breath?
Good oral hygiene habits can help prevent halitosis. It is important to clean your teeth and tongue daily, floss and prevent dry mouth from occurring.
It is also advised to clean your denture teeth, retainer or mouth guards daily to reduce the bacteria build up, and scheduling regular 6 monthly check up and teeth cleaning to keep everything healthy and well maintained.